Chrononutrition is a field of research where chronobiology and nutrition collide, recognising that when we eat can impact health, not just what we eat. This webinar will explain the physiology behind circadian rhythms and introduce the concept of chronotypes ("morningness" and "eveningness"). Evidence for relationships between chronotypes and cardiometabolic health outcomes, eating habits and diet quality will be discussed. Working outside of regular daytime hours – shift work – is a perfect working example of how eating outside of a normal feed-fast cycle can lead to increased risk of cardiovascular disease, type 2 diabetes and weight gain, mediated both by impaired cardiometabolic function due to meal timing, but also by poor diet quality. The webinar will then go on to show that even people who are not shift-workers may be subject to circadian misalignment due to desynchrony between internal circadian rhythms and work schedules – a phenomenon known as "social jetlag". Chrononutrition is essentially the study of meal timing and its impact on diet and health, and there are many aspects to this, including: the length of the daily eating window (time-restricted eating), the distribution of energy intake across the day (big breakfast, small dinner, or vice versa), eating frequency, eating regularity, and meal skipping. A summary of the evidence and highlights from recent studies will be presented for each of these topics. Finally, multidirectional sleep-diet interactions are an integral component of chrononutrition, with meal timing and diet quality influencing sleep timing, and sleep timing in turn impacting on meal timing and diet quality. The potential for sleep hygiene interventions to improve diet quality and support adherence to healthy lifestyle interventions will be discussed. Overall, this webinar will highlight many of the latest studies in the area and provide new perspectives to viewers with some existing knowledge, but it is also suitable for those who are new to the area of chrononutrition.
What will I gain from this webinar?
You will be able to describe the physiological and behavioural mechanisms that underlie increased risk of cardiometabolic diseases and obesity in states of circadian misalignment.
Be able to critically discuss the strength of the evidence for the effects of meal timing on diet quality and markers of cardiometabolic disease risk.
You will have an understanding of how meal timing and sleep interventions could reduce markers of cardiometabolic disease risk and weight gain, as well as implications for practice.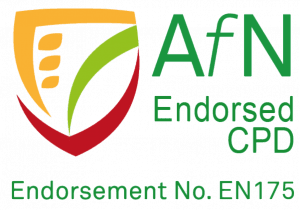 Course Features
Lectures

2

Quizzes

0

Duration

Lifetime access

Skill level

All levels

Language

English

Students

134

Certificate

No

Assessments

Yes